Compaction Grouting Services is a trusted and experienced ground improvement contractor serving PA, NJ, DE and MD. Our experience in geotechnical construction spans over 30 years.  We approach each project and treat your geotechnical construction needs with the proper knowledge, time tested techniques, materials, and equipment to ensure the highest quality results for each project. We provide lump sum pricing and complete each job on schedule.  See our foundation and construction services below.
Compaction Grouting
Compaction Grouting consists of injecting a low-slump, low-mobility, soil-cement grout into loose soils at high pressures. Slow injection rates are used to limit soil hydro-fracture and maintain grout control. The intent of the process is to compact loose coarse-grained soils and densify and/or displace soft fine-grained soils. A column of grout is injected into each hole location in a grid style pattern designed by the engineer. The compaction grouting process is used in sinkhole remediation, foundation settlement reduction, and soil preparation pre-construction by increasing the strength of the soil to withstand higher bearing pressures.  Compaction grouting offers a cost effective alternative to deep foundation systems and underpinning methods.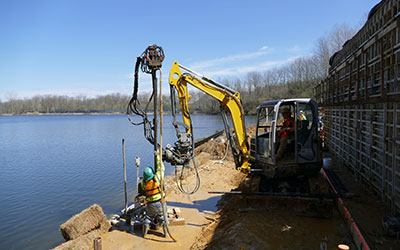 Micropiles
Micropile installation consists of drilling a steel casing to the required pre-determined depth, then placing steel-threaded rebar inside the casing. High strength cement grout is pumped into the casing and surrounds the rebar. These micropiles are grouted using a bottom-up process. Micropiles are often used in foundation construction to provide structural support by transferring structural loads to more competent soils. Micropiles are an efficient solution in areas with limited accessibility and low-headroom. Micropiles are used in sinkhole prone areas and at times are combined with compaction grouting for the best solution. Foundation movement is minimal during construction which allows for day to day operations of surrounding businesses to continue.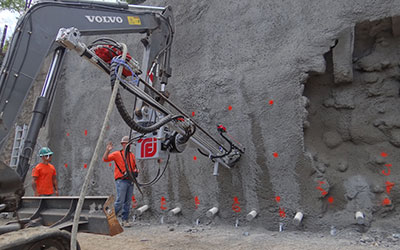 Soil Nails
Soil nails are made of tension-resisting steel and are typically placed utilizing top-down construction. They are placed in a near horizontal manner, inserted into a pre-drilled cavity and filled with grout. This method allows for the grout overflow to surround the nail and bond to the existing earth, providing further support. Soil nails are most often used to reinforce retaining walls, slopes, slabs, and in excavation support.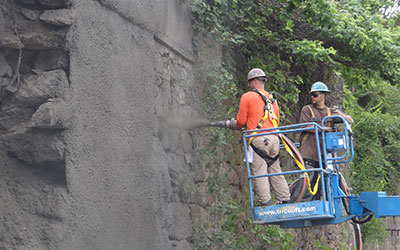 Shotcrete
Shotcrete is a process in which concrete is pneumatically applied onto a surface using an air compressor either by hand or machine. Unlike cast-in-place concrete, shotcrete has the ability to bond to a variety of shapes and forms. It is a high-strength, high-durability, low-permeability cement that can be used in areas with space restrictions and can be applied to repair surfaces.  Shotcrete is often used in conjunction with soil nails for retaining wall stabilization.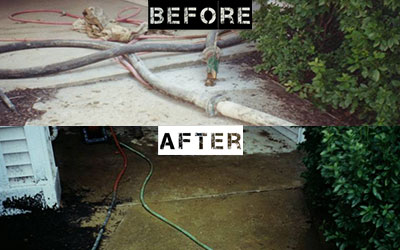 Slabjacking
Slabjacking is a technique used to raise concrete slabs and fill voids. Cement grout is injected into pre-drilled holes in the concrete slab. Grout injection points are placed on a square or offset grid and are no more than 3 inches in diameter. The pressure of the grout filling the voids causes the slab of concrete to raise back to a level position. This method is recommended when there is no damage to the slab. Often, slabjacking is a more cost effective method than a new concrete pour.